ARTICLES

July 3rd, 2023 | 7 min read
Microsoft Fabric and CluedIn: preparing your data for the era of AI together
At this year's Microsoft Build event, Microsoft announced Microsoft Fabric - its brand-new data and analytics offering. In this article, we'll outline what Fabric is, its key features, and how you can elevate Fabric's capabilities with fully integrated, high-quality data from CluedIn.
As the most Azure-native Master Data Management (MDM) platform available, CluedIn was fully integrated with all of the data and analytics tools that have been brought together to form Microsoft Fabric before Fabric even existed.
Similar to all Azure data services, CluedIn was born in the Cloud and is fully optimized to take advantage of the inherent scalability and efficiencies that affords.
For our customers, this means that they can leverage the additional benefits offered by Microsoft Fabric while dramatically accelerating the process of turning raw data into meaningful insights by complementing it with CluedIn.
What is Microsoft Fabric?
Microsoft Fabric is an end-to-end, unified analytics platform that brings together all the data and analytics tools that organizations need.
It is a SaaS offering that is your one-stop-shop for data movement, data lakes, data engineering, data integration, data science, real-time analytics, and business intelligence—all backed by a shared platform providing robust data security, governance, and compliance.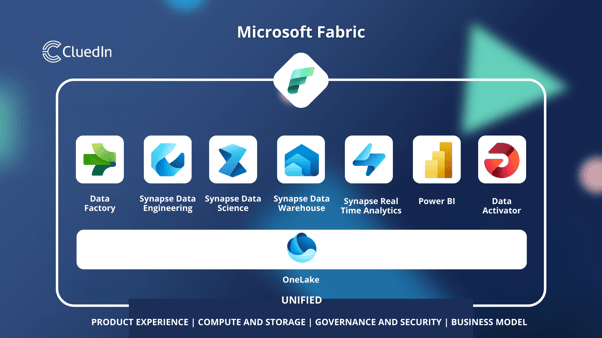 How is Microsoft Fabric different from the Microsoft Intelligent Data Platform?
Fabric represents the evolution of the Microsoft Intelligent Data Platform into a fully integrated SaaS offering. Where the Intelligent Data Platform was a grouping of database, analytics, AI and machine learning and Data Governance tools, Fabric is a single, unified product.
What are the key features and benefits of Microsoft Fabric?


OneLake – the OneDrive of Data
Everything in Fabric is built on OneLake, which comes out of the box with every Fabric tenant and is the home for all your data, moving away from data siloes and the need to copy data to where you need it.
Under the hood, it is still Azure Data Lake Storage Gen2 but there is much more to it than that.
All Fabric workloads are automatically wired into OneLake, just like all Microsoft 365 applications are wired into OneDrive. Data is organized in an intuitive data hub, and automatically indexed for discovery, sharing, governance, and compliance.
Open Formats
Microsoft has embraced a common open data format by supporting Delta Lake, which is the foundation of a Data Lakehouse platform. Delta on top of Parquet as a native data format is the default for all workloads.
This means that customers need to load the data into the lake only once and all the workloads can operate on the same data, without having to separately ingest it. It also means that OneLake supports structured data of any format and unstructured data, giving customers total flexibility.
Customers do not need to maintain different copies of data for databases, data lakes, data warehousing, business intelligence, or real-time analytics. Instead, a single copy of the data in OneLake can directly power all the workloads.
Powered by AI
By infusing Fabric with Azure OpenAI at every layer, Microsoft's aim is to help developers and end users alike to take advantage of the power of generative AI.
With Copilot in Microsoft Fabric in every data experience, users can use natural language to create dataflows and data pipelines, generate code and entire functions, build machine learning models, or visualize results.
Just a few weeks prior to the Microsoft Fabric announcement, CluedIn announced its own native integration with the Azure OpenAI Service. Similar to the upcoming Fabric experience, CluedIn users can clean, standardize and enrich their data using natural language processing (NLP) in a matter of minutes, as opposed to days.
During internal testing, data management tasks that would once have taken 25 – 30 hours to complete were performed in under 30 minutes, including verification of results.
Data democratization
In order to support everyone within the business to make better data-driven decisions, Fabric is fully integrated with Microsoft 365 applications like Power BI.
Through Power BI's deep integrations with popular applications such as Excel, Microsoft Teams, PowerPoint, and SharePoint, relevant data from OneLake is easily discoverable and accessible to users right from Microsoft 365—helping customers drive more value from their data
This ubiquitous approach to empowering business users directly mirrors CluedIn's own philosophy of allowing business users and domain experts to manage and prepare their data directly, without the need to involve IT or technical data teams.
Cost reduction
Microsoft Fabric is designed to eliminate wastage and unnecessary costs by allowing customers to purchase a single pool of computing that powers all Fabric workloads.
With this approach, users can create solutions that utilize all workloads freely without any friction in their experience or additional cost.
The universal compute capacities significantly reduce costs, as any unused compute capacity in one workload can be used by any of the others.
Why is CluedIn the right MDM partner for Microsoft Fabric?
We have always strived to be the most natural choice for Microsoft Azure data services customers who want to accelerate the process of turning raw data into meaningful insights.
Fabric represents Microsoft's most powerful analytics offering yet by bringing an already impressive array of data and analytics tools into a single, unified platform.
Because CluedIn already integrates with these tools, it is the obvious choice for customers who recognize that in order to fully realize the potential of Fabric, they need to supplement it with an operational pipeline of high-quality, integrated, and governed data that is ready-for-insight.